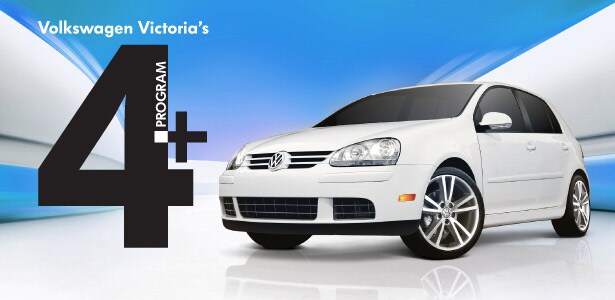 When New Car Warranty expires, many people feel they will not be able to justify servicing at their local dealer. The small shop's lure of a lower hourly rate may often blind someone from understanding the shop's lack of tools, expertise or any credible warranty. In seeking a proper repair with a strong warranty at a fair price, you might find yourself only receiving one possibly two out of the three. Volkswagen Victoria's 4+ program is designed for all Volkswagen models 4 years or older to incorporate servicing with genuine Volkswagen parts and repairs, receiving the same manufacturers care as it had from the beginning.
Competitive pricing. We have priced our labour BELOW many of our smaller, independent competitors to save your hard earned money.
15% off installed parts. What would a discounted labor charge be without cheaper parts?
1 year/20,000km warranty. Peace of mind, knowing that if any repair should fail prematurely, you will have the full support of us to resolve it. Our warranty covers both Parts & Labour for 1 year or 20,000km (which ever comes first).
Flexible hours. Not everyone works 8am - 5pm and we understand. You can drop off your car 24 hours a day so it can be serviced.  After hours, there is a safe and secure drop box in front of the dealership where you can drop off your keys. We offer extended hours for pick up: where you can pick up your vehicle Monday to Thursday until 7pm, Fridays until 6pm, Saturdays from 9am - 5pm and Sundays from 11am - 4pm.
Comfortable lounge. Free Wi-Fi internet access while your vehicle is being serviced for your convenience along with fresh coffee, tea and a variety of freshly baked goods, not to mention being surrounded by the new Volkswagen line up.
Convenience of online booking.  Just a few clicks and you are booked! It's easier than opening a Facebook account!
Volkswagen factory trained technicians. Our technicians are factory trained on your specific vehicles and have the knowledge necessary to get the job done right, the first time. Our technicians have a combined experience of over 90 years working on the cars you love.
All factory tools and technologies. Volkswagen Victoria uses special tools to ensure your work is done to correct tolerances and will give a lasting result. We have invested over $500,000 in specialized tools and equipment.  Our diagnostic computers perform far beyond the ability of small shop testers. This speeds up the diagnosis and ensures you only replace the part that is required, eliminating "diagnosis by parts replacement".